GatorGate Double Dump Valve Quote Request
Thank you for requesting a quote on our Double Dump Valve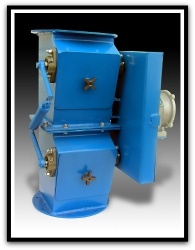 A cost-effective solution to handling abrasive dust.
Aerodyne's GatorGate Double Dump Valve is ideal in feeding and moving chunky or fibrous materials that would jam ordinary rotary valves.
The Double Dump valve is perfect for discharging materials from hoppers, dust collectors and bag houses. Simply fill out the form and a sales person will follow up with your quote.