Recent Changes to NFPA 68 May Impact your Dust Collection System Design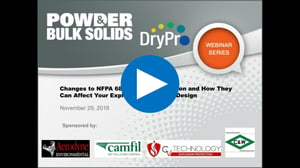 The NFPA 68 standard was updated in 2018. Your dust collection system may have been impacted by the changes to this standard and is at risk of being out of compliance with the updated vent size design calculations.
Are you in compliance with the 2018 version of NFPA 68?
Simply fill out the form for direct access to the webinar to learn more about how to these recent changes may require modifications to your system.