Dust Efficiency Clinic: Dust Collection System Evaluations Help Operators Cut Costs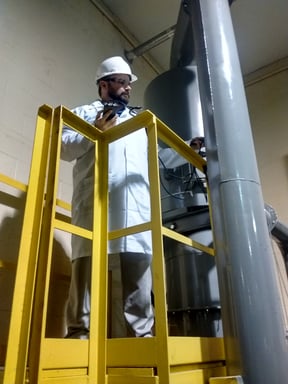 Safety and productivity are critical to a dust collection process, yet few people have the expertise. Let our Aerodyne expert conduct an on-site Dust Safety and Collection Assessment. You'll learn how to improve your process for optimum efficiency and safety. Aerodyne will travel to your facility, view and inspect your system and then provide a report on the system. The report will include:
Safety Assessment

Review and inspection of equipment, installation, controls and protections

Items included in assessment (hoods, ductwork, explosion vents, housekeeping, etc.)

Includes suggestions and areas of improvement so that the process will comply with the latest NFPA standards. The safety assessment is a good first step to review your system before conducting a Dust Hazard Analysis (DHA). It will direct you towards the most important issues, so you can address them before a DHA is conducted.

Collection Assessment

Collection of physical data (airflow, temperature, static pressure, etc.)

Equipment review (dust collector, fans, dampers, ductwork, hoods, etc.)

Recommend changes and operating suggestions to increase performance and removal efficiency (filter replacement, instrumentation, pre-filters, etc.) and decrease maintenance, filter replacement, etc.
The following services are also available:

Dust Hazard Analysis (DHA)

Process Hazard Analysis (PHA)

Filter replacement and dust collection maintenance

System design help with used equipment

Dust testing (particle size analysis and/or explosiveness)